Welcome to our free classical music site
Welcome to Classical Connect - the free classical music site!
If you like classical music, you've come to the right place! Classical Connect is your virtual concert hall, featuring thousands of recordings of classical music. If you love piano music, just go to the Browse by Instruments section and access the thousand-plus piano recordings available in our library. If you prefer the violin or the flute, you won't be disappointed either – in fact, we have music for practically every instrument! If, on the other hand, you're interested in a particular composer, you can Browse by Composer and select your favorite.
Where do we get our music? Our site allows independent musicians to upload their own recordings, or we may do it on their behalf. Musicians value the special opportunity Classical Connect offers because it allows for their music to be heard around the world. Several hundred musicians have already joined our site. We also have arrangements with several labels, festivals, programs and orchestras, allowing us to use some of their material.
As a visitor to our site you can listen to the first three minutes of any recording. However, by joining our site you'll have access to all full-length performances. Joining is easy and has many great benefits. You'll be able to create playlists, comment and vote on recordings, share music with friends, listen to our special programs, and more.
The music you hear upon entry was randomly selected from our library - what we call our Serendipity list. You can always pause it or jump to the next piece. You'll be able to change the content of these initial selections once you've signed in.
To help you navigate the site and use its features, we've also created a Help page.
In the meantime, enjoy the music!
The Classical Connect team
December 2, 2013. Soler, Geminiani and Sibelius. Francesco Geminiani was born in Lucca on December 5th, 1687. He studied music with Alessandro Scarlatti and later with Arcangelo Corelli. In 1711 he became the leader of the Opera orchestra of Naples,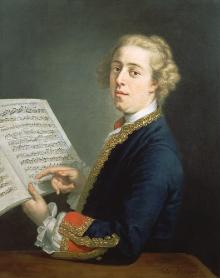 where he was also the concertmaster. His teacher Scarlatti was living (and writing operas) in Naples during that time, so they resumed their contacts. In 1714 Geminiani moved to London. By then he had a reputation as a violin virtuoso. George Frideric Handel, who also studied with Corelli, was the king of the London music scene. All things Italian were very popular in London in those days (the tradition of a young gentleman's Grand Tour with its obligatory stops in Florence, Rome, and also Venice and Naples, was established at the end of the 17th century), and Geminiani was invited to the court of George I. There he played the violin accompanied by Handel himself. Geminiani lived in England and Ireland for the rest of his life (he died in Dublin on September 17th, 1762). He had many students and in 1751 published an influential book on violin playing, Art of Playing the Violin. Among his best-known compositions are concerti grossi, some of them based on the music of his teacher Corelli. Here, for example is Geminiani's Concerto Grosso no. 12 in D minor "La Follia," which was based on Corelli's Violin sonata op.5 no. 12, which in turn was based on the famous tune, La Folia. It's performed by The English Concert, Trevor Pinnock conducting. And here is his Concerto Grosso op. 7 no. 3. It's performed by Capella Istropolitana, Jaroslav Krcek conducting.
Antonio Soler was born on December 3rd, 1729 in a small Catalan town of Olot. There is a connection between Soler and Geminiani: the former studied with Domenico Scarlatti, while the latter – with Domenico's father Alessandro. Soler went to the choir school of the monastery of Monserrat and soon after was made chapel master at the Lerida Cathedral. In 1752 he joined the Order of St. Jerome (therefore "Padre" or "Father" Soler, as he's commonly called) and became the organist at the royal Monastery of El Escorial. While there he wrote more than 500 compositions, among them 150 keyboard sonatas, many of them highly original, with unexpected harmonic developments (it's rumored, though, that some of the sonatas were actually written by his pupil, Infante Gabrile, son of the king Carlos III). Soler also wrote church music and music for plays, but it's his keyboard sonatas that he's famous for. Here are three sonatas by Soler, performer by the great Spanish pianist Alicia de Larrocha: F-sharp minor R 85; in D Major R86, and F-sharp major R 90.

Jean Sibelius is another composer who has his birthday this week. He was born on December 8th, 1865 in Hämeenlinna, not far from Helsinki in what was then part of the Russian Empire. The first thing that comes to mind when one compares the work of Sibelius with the baroque composers like Geminiani and Soler is not the difference in style, which of course is enormous, – it's the intensity and seriousness of purpose. For Sibelius, a Finnish nationalist whose first language was Swedish, Finland's independence was paramount, and while he couldn't do much about it politically, he attempted to create it in his music; his Symphony no. 2 was dubbed "The Symphony of Independence." As a composer he was a master, building his work as a progression of different elements and fragments. In this respect, his recollection of a conversation with Gustav Mahler, whom he met in 1907 while Mahler was touring Finland, is very telling for our understanding of both composers. "I said that I admired [the symphony's] severity of style and the profound logic that created an inner connection between all the motifs... Mahler's opinion was just the reverse. 'No, a symphony must be like the world. It must embrace everything.'" It couldn't be said better: Mahler's symphonies are like the world, and Sibelius's are logical. Sibelius composed his Symphony no. 5 in 1915; the symphony was commissioned by the Finnish Government to commemorate Sibelius's 50th birthday, and it was premiered on that date, December 8th, 1915 in Helsinki. In this recording Herbert von Karajan conducts the Berlin Philharmonic (here).Read more...
---
Welcome to our Virtual Concert Hall
We started Classical Connect with a mission to provide independent musicians with a new venue for their performances. Hundreds of classical musicians have taken advantage of this opportunity, sharing their music with listeners across the world.
We encourage you to join and upload your performances. Once signed in, you'll be able to create a personal page with your bio, photo and other promotional materials. Since all the recordings on our site are streamed, your performance cannot be downloaded without your permission. In the future, you may also benefit from our plan to introduce fees for certain downloads. These fees will be shared with you, the musician.  If you have a video of your performance on YouTube, you can link it to your personal page: go to Upload or Link Your Performance and paste the YouTube URL in the appropriate field.  Your video will play on Classical Connect alongside your audio recordings.
Also, we have created a new feature called Concert Schedules, which allows you to enter your future concerts. Once your event has been entered, two things should happen. First, the concert is displayed on your personal page, below the bio. Second, the concert appears on the combined front-page Concerts Calendar. Moreover, for two days – the day before the concert and the day of the concert itself – there will be a message announcing your concert on the front-page News and Updates tab. This is the very first tab presented to all logged-on users.
On the technical side: our site accepts MP3 and MP4 files, so if you have a CD recording, you can rip and upload it in this format. For better quality, we recommend using a bit rate of 128 kbps, an audio sample rate of 44 kHz, and a two-channel (stereo) format.
To upload, enter the complete title of the piece, including its key, number, opus, etc. For example, the title of Beethoven's Sonata No. 21 would be identified as Sonata No. 21 in C Major, Op. 53. "Waldstein" is optional.  Also, we encourage you to leave comments about your performance or the composition.
If your performance was recorded on several tracks, then upload each one with a different title. For example, Sonata No. 21, part 1, Sonata No. 21, part 2 and so on. Please let us know and we'll merge these different movements into one complete performance with the appropriate title.
Please do not upload parts of a composition. Think of Classical Connect as your virtual concert hall: only upload the things you would play in a real one.
If you have any questions, please contact us by clicking here and sending us an e-mail. We'll make every effort to respond as quickly as possible.
The Classical Connect team
Benefits of Joining Classical Connect
There are many advantages to joining Classical Connect. The first, and most obvious, is the ability to listen to complete performances. We have more than 2,000 different pieces of classical music, some of them as long as an hour and 50 minutes (yes, that's how long Mahler's Third Symphony is!). Once you're logged in, you can listen to every one of them from start to finish – that's if you like the performance, of course.
You can also create personal playlists. There's no limit to how many pieces each playlist can include. You can read more about playlists here. In addition, you can comment and vote on any piece of music in our library. The grades / rankings go from 1 (lowest) to 10 (highest), but please only reserve 10s for the truly great performances and use 1s sparingly!
Another advantage includes sharing performances with your friends. Click the Share button on the Player and send a message to your friend on Classical Connect, or simply copy/paste the link into an e-mail. Your friends don't even need to be members of Classical Connect; they can simply click on the link and listen to the complete performance the same way you do.
Also, you can actively participate in Forums only if you've joined the site.
Finally, as you set up your profile, you can select the content of the initial musical selection or omit it entirely.
Joining is easy. Just click here and follow the instructions.
Enjoy!
The Classical Connect team